Researchers and key personnel for the Southeastern Coastal Center for Agricultural Health and Safety met with the center's Community Stakeholder Advisory Board and the Scientific Advisory Committee on March 15 in Gainesville, Florida.
Attendees were welcomed by Glenn Morris and Andy Kane, as well as Senior Vice President for the Institute of Food and Agricultural Sciences Jack Payne and Dean for the College of Public Health and Health Professions Mike Perri.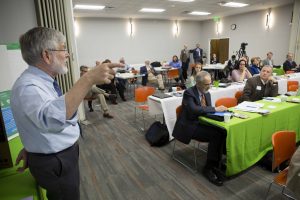 Researchers and pilot project leaders briefly described their research and engaged with community partners and industry leaders on what was next for the research projects.
The advisory board was able to learn about the center's broad range of research and gain understanding about how the center seeks to impact the Southeast's agricultural, fisheries, and forestry sectors.
Learn more about who is representing the industry and serving on the advisory board by visiting the advisory board webpage. Also, learn what was presented to the CSAB by downloading the presentation.
[button color="#FFFFFF" background="#ff8f00″ size="large" src="https://www.sccahs.org/wp-content/uploads/2018/03/Combined-Presentations_3.pdf" target="_blank"]Community Stakeholder Advisory Board presentation[/button]