The Southeastern Coastal Center for Agricultural Health and Safety (SCCAHS) Director of Emerging Issues and Planning Joan Flocks recently presented a poster at the National Institute of Diabetes and Digestive and Kidney Diseases conference on Chronic Kidney Diseases in Agricultural Communities.
The conference was held in Bethesda, Maryland and brought together health professionals, scientists, and public health officials to share information and knowledge about the causes and potential treatments of chronic kidney diseases, particularly those of unknown origin (CKDu), in agricultural communities.
"The conference was timely because there has been a significant increase in CKDu globally in the past several decades," Flocks said. "Although the specific causes of CKDu remain unclear, much research has focused on factors such as occupational chemical and heat exposures."
Flocks partnered with other researchers affiliated with SCCAHS, including Joseph Grzywacz, Antonio Tovar-Aguilar, Linda McCauley, Valerie Mac, Roxana Chicas, Christopher Vulpe, Stephen Roberts and Nancy Denslow, to deliver information about current SCCAHS and Sunshine ERC projects focusing on occupational heat and pesticide in southeastern coastal states.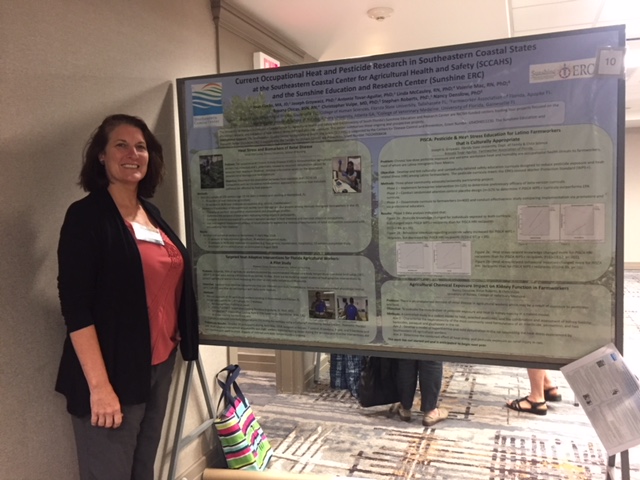 "There has been less research on CKDu among farmworker communities in the United States than there has been in some other countries where the condition has become epidemic," Flocks said. "But some studies in areas with large farmworker populations, such as the SCCAHS region, are now being conducted. We felt it was important to showcase our current activities related to the topic and to network with an experienced pool of international researchers that have been studying the issue for decades."
Flocks is also the Director of Social Policy for the Center for Governmental Responsibility at the University of Florida's Levin College of Law.
[button color="#FFFFFF" background="#ff8f00″ size="large" src="https://www.sccahs.org/wp-content/uploads/2018/07/Flocks-2018-NIDDK-poster-6-18.pdf" target="_blank"]Download the poster[/button]