Respected presenters and researchers will discuss topics such as occupational exposures, pesticide metabolism and effects to fetus, pregnancy bias, employment considerations during pregnancy, general maternal health, work-family balance, legal climate, as well as social and cultural issues.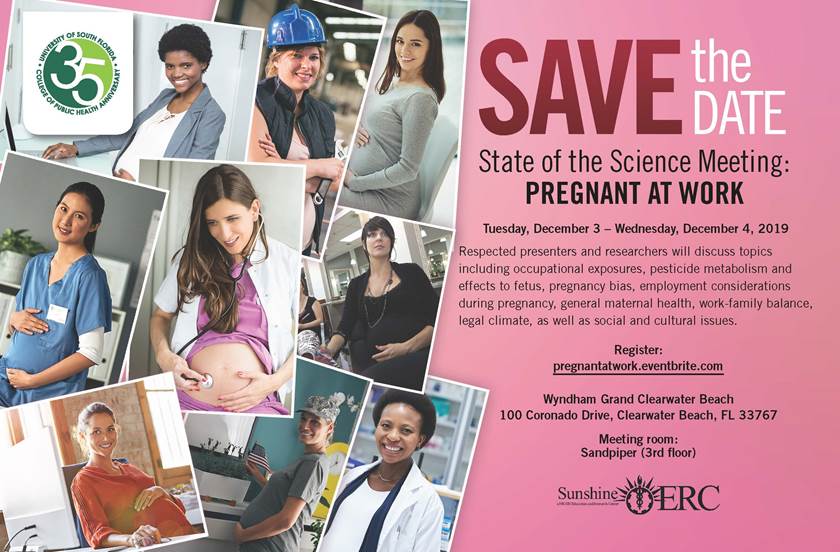 To Register:
Date: Tuesday, December 3, 2019
Time: 6:00 PM to 8:00 PM
Event: Poster Session & Networking Reception
Location: 3rd Floor Pelican Room
Date: Wednesday, December 4, 2019
Time: 8:00 AM to 4:00 PM
Event: State of the Science Meeting
Location: 3rd Floor Sandpiper Room
Featured Presentations Include:
In Memoriam: Dr. Arun Kulkarni; Application of Physiologically-Based Toxicokinetics to Assess Transfer of Chemicals to the Developing Child presented by Janusz Z. Byczkowski, PhD, DSc
Pregnancy Bias at Work: Emergence, Consequences, and Solutions for Remediation presented by Kristen Price Jones, PhD
Employment Considerations During Pregnancy and in the Postpartum Period: What Can the Obstetrician Do? presented by Meredith L. Birsner, MD
Occupational Pesticide Exposure and Pregnancy Health in Vulnerable Workers presented by Joan Flocks, JD
Registration is free however space is limited. RSVP's are used to ensure an accurate count for food and beverages.
CURRENTLY ACCEPTING POSTER SUBMISSIONS.
Please e-mail abstracts to: guinto@usf.edu