The risks associated with the agriculture industry are very diverse. Developing and disseminating safety communication materials is a challenge faced by agricultural communicators.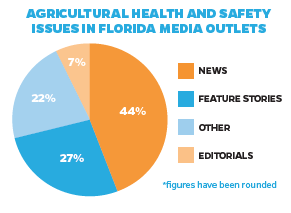 Researchers from the University of Florida recently conducted a study to describe agricultural health and safety issues discussed in Florida news media during the year 2016. In this study, agricultural health and safety messages were evaluated by analyzing frames. A frame is the way in which media is presented with the goal of encouraging certain interpretations. This study discussed the prominence of the following frames: conflict, human interest, responsibility, and economic consequences.
"The way information about agricultural health and safety is framed impacts the way citizens come to understand the issues," said associate professor of agricultural education and communication at the University of Florida, Lisa Lundy. "It's important for us to understand how media are discussing these issues."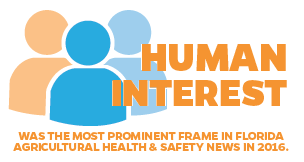 97 articles were evaluated in this study, with human interest being the most prominent frame. Framing is important in agricultural health and safety messages because it influences the way in which a message is perceived and retained. This study evaluates the effectiveness of the messages, discussing the benefits and implications of different framing methods. Research on framing provides agricultural communicators with insight into the most effective ways to formulate a message.
Learn more by downloading the latest SCCAHS issue guide:
The Southeastern Coastal Center for Agricultural Health and Safety (SCCAHS) is part of a Centers for Disease Control and Prevention (CDC) / National Institute for Occupational Safety and Health (NIOSH) Agricultural Health and Safety Initiative. SCCAHS explores and addresses the occupational safety and health needs of people working in agriculture, fishing, and forestry in Alabama, Florida, Georgia, Mississippi, North Carolina, South Carolina, the U.S. Virgin Islands, and Puerto Rico.